This article is a work in progress!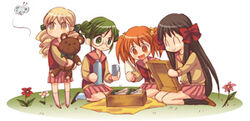 Pages that carry this template may have issues that conflict with this wiki's policies. Our editors will fix these issues as soon as they are available. We apologize for any inconveniences.

Pages with this template are automatically included in the Work in Progress category.
The Strawberry Panic! (ストロベリー・パニック! Sutoroberii Panikku!?) light novels are a trilogy of novels that adapt the original stories. There are three total. The English release was handled by Seven Seas Entertainment.
Volume 1
Edit
Coming soon...
Volume 2
Edit
Coming soon...
Volume 3
Edit
Coming soon...
"Astrea Hill: the home of three prestigious all-girl schools known as St. Miator, St. Spica, and St. Lulim. These schools all share a common campus and dormitories known as the Strawberry Dorms, where wacky melodrama and high romance are always in full bloom!
Enter Aoi Nagisa, an earnest transfer student who struggles to adapt to her new chaotic surroundings. Her self-control goes out the window when she meets campus star and serial heartbreaker, Hanazono Shizuma. As their newfound romance blossoms, Nagisa's life becomes a whirlwind of bitter rivalries, secret plots, and dangerous temptations."
Chapters
Edit
Volume 1
Edit
Chapter 1 - A Goddess Finds Delightful Prey in the Cherry-Colored Mist
Chapter 2 - The Shining Star of the Campus Makes a Decision in the Flaming Greenery
Chapter 3 - The White Prince of the Stars Falls in Love with a Violet on the Roadside
Chapter 4 - The Cock Crows Three Times, an Omen of Battle
Chapter 5 - Beautiful Sisters Fighting a Phantom Tell the Truth before the Sea God
Chapter 6 - A Rainbow Shines in the Valley of Tears That Have Dried Up
Chapter 7 - The Crown of the Most Beloved Blesses the Two with Its Holy Light
Epilogue - The Coronation[1]
Volume 2
Edit
Prologue - With the Goddess Absent, Tender Tears Fall from the Little Nymphet
Chapter 1 - The Hazel Comet Strengthens the Attraction of the Full Blue Tide
Chapter 2 - On Festival Night, the Omen of a Misfortune Avoids a Red Sign and Jumps
Chapter 3 - A Prophet Appears, Dividing the Obstructive Sea and Showering Manna
Chapter 4 - Vulnerable Girls Blossom Under the Conquering Shadow of a Young, Gallant Emperor
Chapter 5 - A Black Wedge is Driven into the Towering Pile of Stones
Chapter 6 - Romeo and Juliet Always Broke the Rules
Chapter 7 - On the Morning of the Escape, a Promise is Broken, Then Fulfilled
Volume 3
Edit
Prologue - The Midsummer Winds Attract Worrisome Dreams
Chapter 1 - The Escapees Walk Down a White Path at High Noon
Chapter 2 - The Hidden Road Sign Invites Those Who Are Lost
Chapter 3 - A Sunless Sky Illuminates the Invisible Truth Below
Chapter 4 - How the King of Truth Became Known
Chapter 5 - The Maidens Drew Water from the Fountain of Courage
Epilogue - The Sacred Etoile
Characters
Edit
St. Miator
Edit
Nagisa Aoi
Shizuma Hanazono
Tamao Suzumi
Chiyo Tsukidate
Miyuki Rokujo
St. Spica
Edit
Amane Otori
Hikari Konohana
Yaya Nanto
Shion Tomori
Momomi Kiyashiki
Kaname Kenjo
Makoto Kusanagi
St. Lulim
Edit
Chikaru Minamoto
Kizuna Hyuga
Remon Natsume
Kagome Byakudan
Story by: Sakurako Kimino
Art by: Namuchi Takumi
Novel 1 translation: Michelle Kobayashi
Novel 2 & 3 translation: Anastasia Moreno
English adaptation: Christine Norris
Layout & design: Nicky Lim
Copy editor: Erica Friedman
Editor: Adam Arnold
Publisher: Jason DeAngelis and Seven Seas Entertainment
Coming soon...
Translation Notes
Edit
Coming soon...
Seven Seas Entertainment lists "Namuchi Takumi" as "Takuminamuchi" for their releases.
The third novel was never given an individual English release and can only be found in the omnibus.
References
Edit