This article is a work in progress!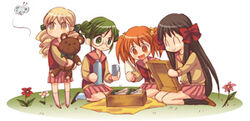 Pages that carry this template may have issues that conflict with this wiki's policies. Our editors will fix these issues as soon as they are available. We apologize for any inconveniences.

Pages with this template are automatically included in the Work in Progress category.
Strawberry Panic! (ストロベリー・パニック! Sutoroberii Panikku!?) is the manga adaptation of the Strawberry Panic! short stories. It was serialized in the monthly magazine Dengeki G. Each chapter was released monthly starting September 30th, 2005 before it ended on February 28th, 2007. The chapters were split between two bound volumes. The English translation of the manga was handled by Seven Seas Entertainment.
Volume 1
Edit
"Coming soon..."
Volume 2
Edit
"Coming soon..."
"For new transfer student Aoi Nagisa, St. Miator Girls' Academy offers her the chance at a fresh start and a way to redefine herself. But these noble intentions go out the window when she catches her first glimpse of honor student Hanazono Shizuma, whose porcelain white skin and goddess-like beauty leave Nagisa speechless.
It's puppy love at first sight, but naive Nagisa is unaware that Shizuma is a serial heartbreaker who has set her sights on Nagisa herself. Will Nagisa end up as another notch on Shizuma's belt, or does fate have other plans in store for the new couple?"
Chapters
Edit
Characters
Edit
St. Miator
Edit
St. Spica
Edit
St. Lulim
Edit
Story by: Sakurako Kimino
Art by: Namuchi Takumi
Translation: Anastasia Moreno, Yayoi Ihne, Jason DeAngelies
Adaptation: Lorelei Laird, Adam Arnold
Retouch & Lettering: Roland Amago, Aristotle Licuanan
Cover design: Nicky Lim
Layout: Bambi Eloriaga, Alexis Roberts
Copy editor: J. W. Coffey, Lori Smith, Janet Houck
Editor: Adam Arnold
Publisher: Jason DeAngelies, Seven Seas Entertainment
"Coming soon..."
The manga was left unfinished, leaving off in the middle of the Étoile competition.
The US omnibus includes two chapters that had never been released stateside before.[1]
Macmillan's entry for the light novel omnibus has the summary for the manga omnibus.[2]
References
Edit
↑ Strawberry Panic The Complete Manga Collection, Amazon. Retrieved April 22nd, 2016.
↑ Strawberry Panic: The Complete Novel Collection, Macmillan. Retrieved April 3rd, 2016.