This article is a work in progress!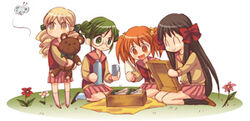 Pages that carry this template may have issues that conflict with this wiki's policies. Our editors will fix these issues as soon as they are available. We apologize for any inconveniences.

Pages with this template are automatically included in the Work in Progress category.
Strawberry Panic (ストロベリー・パニック Sutoroberii Panikku?) is a 26 episode anime based on the Strawberry Panic! short stories. It started airing on April 3rd, 2006 and ended its run on September 25th, 2006. Media Blasters currently holds the license for US redistribution.
Openings and Endings
Edit
Caught in a Female Maze is the first opening of the anime. It plays at the beginning of episodes one to 13 and serves as the ending for episode 26. It was replaced with Lips Daydream for episodes 14 to 25.
Secret Dolls is the first ending of the anime. It plays at the end of episodes one to 13. It was replaced with Strawberry Picking Story for episodes 14 to 25.[1]
Synopsis
Edit
"Aoi Nagisa transfers to a new Catholic girls only school and discovers a community of fellow students entwined in an intricate hierarchy, at the top of which sits the all important Etoile. In order to fit in, Nagisa must go to class, join clubs, and make new friends. Meanwhile, Hanazono Shizuma, the Etoile of the school, finds herself drawn to this new, exciting transfer student. As Shizuma and Nagisa get to know each other, Shizuma finally decides it is time to face her troubled past."[2]
Episode List
Edit
#
Episode Title
Original Air Date
1
Cherry Blossom Hill
April 3rd, 2006
Summary
2
Etoile
April 10th, 2006
Summary
3
Attic
April 17th, 2006
Summary
4
The White Horse's Master
April 24th, 2006
Summary
5
Younger Sisters
May 1st, 2006
Summary
6
Greenhouse
May 8th, 2006
Summary
7
Thorny Trap
May 15th, 2006
Summary
8
Hydrangeas
May 22nd, 2006
Summary
9
Memories
May 29th, 2006
Summary
10
Private Lesson
June 5th, 2006
Summary
11
Meteor Shower
June 12th, 2006
Summary
12
Summertime
June 19th, 2006
Summary
13
The Roar of the Waves
June 26th, 2006
Summary
14
More Than Best Friends
July 3rd, 2006
Summary
15
Heroine
July 10th, 2006
Summary
16
Behind the Scenes
July 17th, 2006
Summary
17
Secret
July 24th, 2006
Summary
18
Storm of Love
July 31st, 2006
Summary
19
Refrain
August 7th, 2006
Summary
20
Confession
August 14th, 2006
Summary
21
Like a Flower
August 21st, 2006
Summary
22
Duel
August 28th, 2006
Summary
23
Maze
September 4th, 2006
Summary
24
Wheel of Fate
September 11th, 2006
Summary
25
Waltz
September 18th, 2006
Summary
26
A Beginning
September 25th, 2006
Summary
Coming soon...
The anime is one of few properties that carry the Strawberry Panic! name to exclude the exclamation point.
The anime was never given an English dub.
References
Edit
↑ Strawberry Panic - Anime, AniDB. Retrieved April 6th, 2016.
↑ Strawberry Panic! (TV), Anime News Network. Retrieved May 19th, 2016.